What Is a Realistic Budget for a Wedding?
A wedding is a big event and can be very expensive. The average cost of a wedding with a professional videographer in the United States is about $35,000, but it can range from a few thousand dollars to over $100,000. If you are planning a wedding, it is important to understand all of the costs involved so that you can create a realistic budget.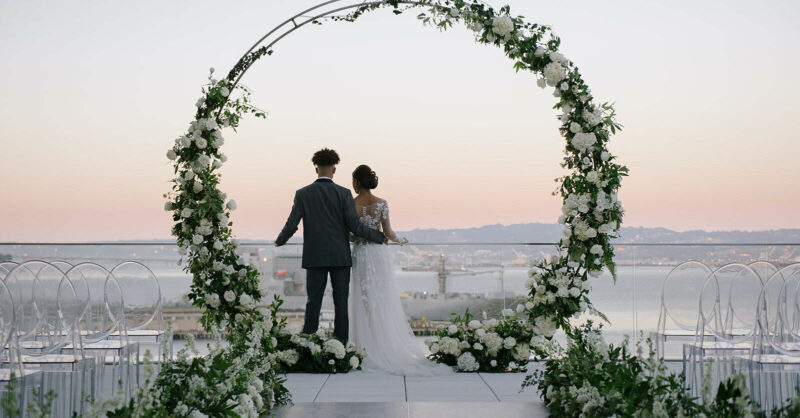 The largest expense for most weddings is the venue. The cost of the venue will vary depending on the location and size of the venue. If you are looking for a unique or luxurious venue, you can expect to pay more. The next biggest expense is usually the catering. Catering costs will vary depending on the number of guests, the menu, and other factors. Other significant expenses can include the wedding dress, flowers, music, photographer, and transportation.
To get a better idea of what is a realistic budget for a wedding, it is helpful to look at some real-world examples. A recent survey by The Knot found that the average cost of a wedding in 2018 was $33,931. This number will likely be higher in 2019. The Cost of Wedding website has a helpful calculator that can give you an estimate of how much your specific wedding might cost.
When creating your budget, it is important to be realistic about what you can afford. If you are struggling to come up with the money for your dream wedding, there are a few options to consider. One option is to have a smaller wedding with fewer guests. This can help you save on costs like the venue, catering, and transportation. Another option is to ask family and friends for help with some of the expenses. Finally, you can look into wedding loans or credit cards that offer special financing for weddings.
No matter what your budget is, there are ways to make your wedding beautiful and memorable. By being mindful of all the costs involved, you can create a realistic budget that will help make your dream wedding a reality.
If you found this article helpful, be sure to check out our other wedding planning tips. You can also find more information on wedding budgets and how to save money on your big day by visiting our website.
Do you have questions about what is a realistic budget for a wedding? Let us know in the comments below or contact us today for more information!
How Long Is Reasonable to Wait for Wedding Photos?
This is a question that often comes up, especially when couples are planning their wedding. While there is no definitive answer, there are a few things to keep in mind that can help you decide how long to wait for your own wedding photos.
First, it's important to remember that your wedding photographer Canada is likely working with a team of other professionals (videographers, assistants, etc.) to capture your entire day. This means that they may not be able to immediately start working on your photos as soon as the event is over.
Second, depending on the size and scope of your wedding, your photographer may need to take additional time to edit and process your photos. This is especially true if you have a large number of photos or if you've requested specific editing services.
Finally, it's worth considering how long you're willing to wait to receive your wedding photos. If you're anxious to see them and can't wait to share them with family and friends, you may want to consider opting for a shorter turnaround time. On the other hand, if you're not in a rush, you may be willing to wait a bit longer to receive your final product.
Ultimately, there is no right or wrong answer when it comes to how long is reasonable to wait for wedding photos. It's up to you and your photographer to decide what timeline makes sense for your specific situation.
Is 6 Hours of Wedding Photography Enough?
It's a common question among couples planning their wedding – how much time do we need to allocate for photography? And while there is no easy answer, in general, most couples will be happy with 6 hours of photography coverage on their wedding day.
Of course, every wedding is different and your specific needs may vary. But if you're looking for a ballpark estimate, 6 hours is usually enough time to capture all the key moments of your wedding day.
This includes everything from getting ready shots to the first look, ceremony, family portraits, couple's portraits, and reception. With 6 hours of coverage, you'll have plenty of beautiful photos to cherish for a lifetime.
Of course, if you have a large wedding or want more extensive coverage, you may need to add on additional hours. But in general, 6 hours is a good starting point for most couples.
So if you're wondering how much time to allocate for wedding photography, 6 hours is a good place to start. This will give you plenty of beautiful photos to cherish for a lifetime.
How Do You Compare Wedding Photographers?
When you are looking for a wedding photographer, it is important to compare different photographers to find the right one for you. There are a few things you should keep in mind when comparing photographers.
First, consider the style of photography each photographer offers. Do you want traditional posed photos, or do you prefer a more candid approach? Some photographers specialize in one style or the other, so be sure to ask about their specific expertise.
Next, take a look at the price each photographer charges. Wedding photography can be expensive, so be sure to get quotes from several photographers before making your final decision. It is important to find a photographer whose price fits your budget, but be sure to also consider the quality of their work.
Finally, ask each photographer for references from past clients. This is the best way to get a feel for their work and see if they are the right fit for you.
When you take the time to compare different photographers, you are sure to find the perfect one for your wedding day.